Week 116
Day 663
Roma, Italy
41.9000° N, 12.5000° E
Hopping over from Ireland, our first Italian stop was Naples.
Within minutes of being in Italy, Tom and I were in love with the country.
The first thing we did upon finding our Airbnb rental right in the heart of the old historic district was head down to the street for some pizza at the "birthplace of pizza," Sorbillo.  With a line out the door, it was definitely worth the wait as it was fantastic.
Having split a pie, our next stop was Gelato.  We weren't quite as picky with that stop, but it didn't matter it was fantastic!   As has my daily cup (or two) been since!

After polishing off our ice cream, we headed to a negozio carne to pick up some salami and an assortment of cheeses to last us the week.  On the way out we saw a bottle of no lable red for 2 euro so we grabbed that as well.  
Stuffed full, we quickly realized there isn't much to do in Naples other than eat and drink.
We did take care of procuring sims at TIM (my research showed that they have the best deal for data plans.  We got a 20 GB 30 day plan for 40 Euro) and we also spent a good half day walking around the entire city hopping into shops, checking out the spectacular city from the roof tops, visiting the Castel Nuovo, and laughing at the random graffiti, but otherwise our main reason for stopping in Naples was to visit Pompeii.
Seriously though, even without the formal attractions of Roma, Naples can keep you entertained for days! The architecture is amazing and there is history behind every corner.

Pompeii was definitely worth the visit.  The ruins were Tom's favorite historic site that we've been to thus far, and that's saying a lot when compared to Caracol, Angkor Wat, and Machu Picchu.
As you can see, it's the people of Napoli that give it it's character. While sometimes reminiscent of Jersey Shores, the one thing you can says about the Napoleons is that they are full of passion.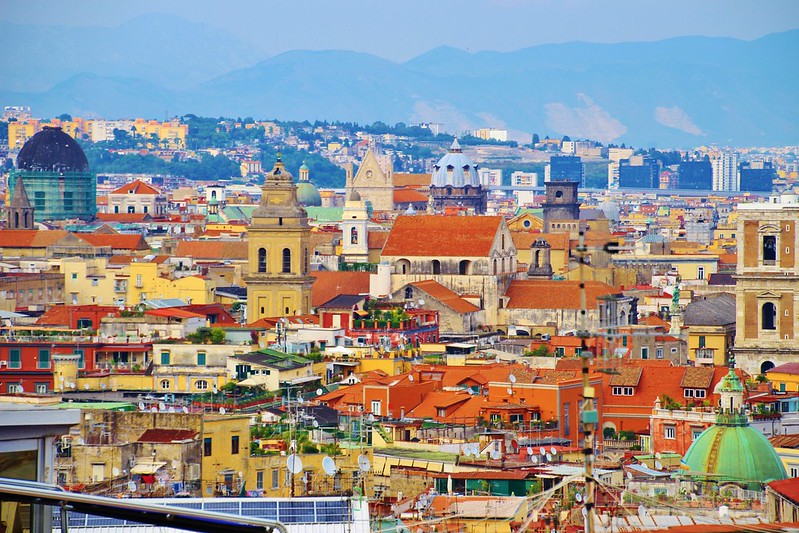 I'm not sure I would go out of my way to stay in Naples for a while, but it was the perfect entry into Italy.  We loved ever minute of our time, but since arriving in Rome we realize Italy only continues to get better and better.
We've had an amazing time in Rome walking around the spectacular monuments and visiting the Vatican.  We can't wait to
meet up with my mom and dad
and see what they have in store for us as our Italian adventure continues.